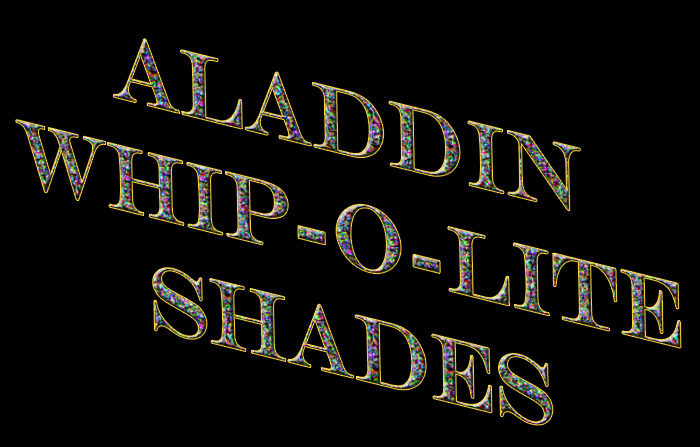 1933-1956
Whip-o-Lite was the trade name for the paper introduced in 1933 by the Aladdin Mantle Lamp Company, and used to produce a wide variety of shades for the lamps they sold. The paper was impregnated with a resign that allowed it to be translucent, washable, and able to withstand the high heat output of the Aladdin burners. The new paper was a vast improvement over all the other parchment shades of the era. Since it was made without vegetable or mineral oil the parchment did not oxidize or turn brown, and it didn't feel or look greasy.
While some of the shades you will see here may appear to be brown with age, they aren't. They were actually manufactured in the tan color. Some shades were available both in tan, or white. Some of the artistic designs on the Aladdin shades were very beautiful and became quite popular with customers. So much so that the same designs were used on Aladdin's electric lamps as well.
While they were advertised as being washable I really wouldn't advise trying to give one of them a bath today! They can be cleaned, but doing so is always a risk since they do have a tendency to turn quite brittle over the years. The shades can easily be cracked and or torn if not handled with care. They are often found with holes near the bottom of the shade that were usually caused when the owner inadvertently poked one of the metal arms of the shade holder (spider) through the shade while attempting to fit it on the shade holder. Please be aware that handling one of these old shades must be done with great care!
The only thing harder to find than the Aladdin lamps themselves are the Whip-o-Lite shades that adorned them at one time. For all intents and purposes, no matter how artistic, these shades are paper, and paper is not known for it ability to stand the test of time. That any of these shades survived is really quite amazing, and if you find one in good shape you really are quite lucky to have done so. While I have many lamps in my collection, the original shades I own are what really makes it unique. I hope you enjoy them.